Top 10 Trending Products In New Zealand
Struggling to find good winning products and trending products in New Zealand? Look no Further, We have added Top 10 highest trending products in New Zealand that you can sell online. These are perfect for dropshipping, Ecommerce, Amazon FBA and local retail business in New Zealand.
These products were added using free to sign-up trending products tool MuzTrends.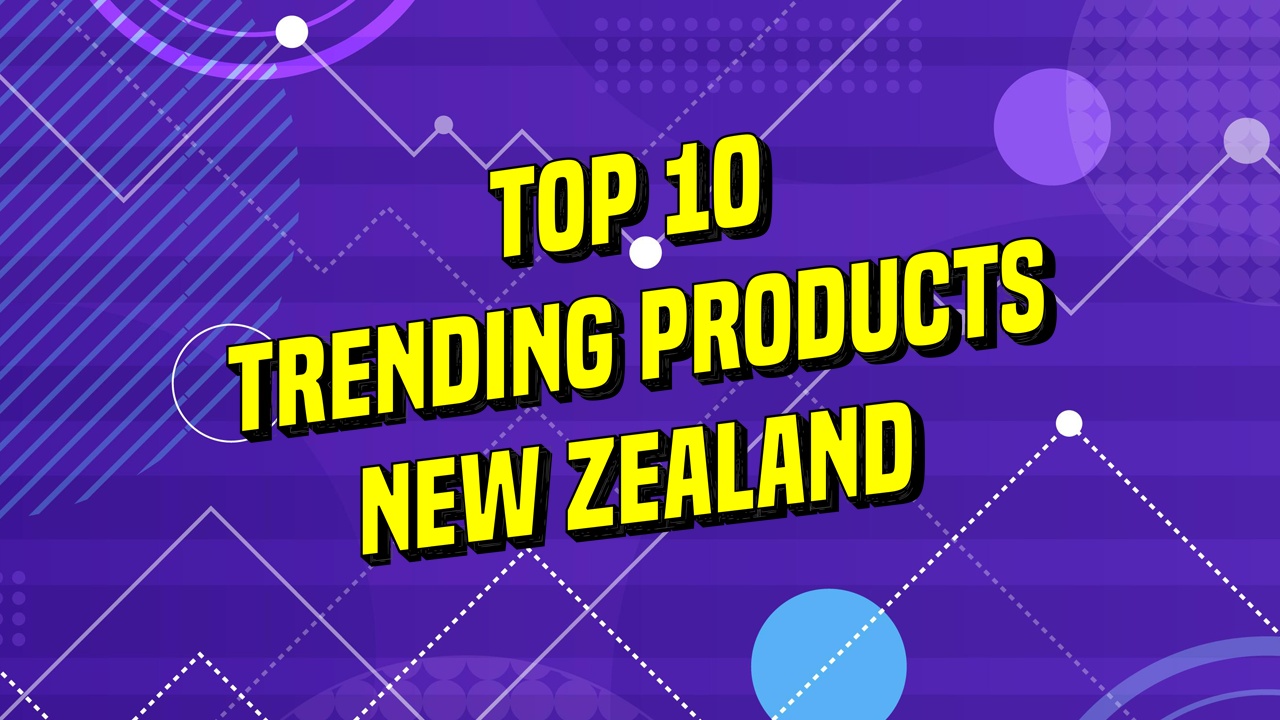 This page is regularly updated with new trending products every week, make sure to check out often!
| | | | |
| --- | --- | --- | --- |
| # | Product | Est. Volume | Growth Rate |
| 1 | White Hoodie | 1K | 760% |
| 2 | Ballet Flats | 880 | 870% |
| 3 | Slipper Socks | 320 | 980% |
| 4 | Baby Change Mat | 10 | 320% |
| 5 | Crepe Maker Nz | 320 | 300% |
| 6 | Side Sleeper Pillow Nz | 260 | 970% |
| 7 | Barefoot Shoes | 1.3K | 300% |
| 8 | 360 Camera | 590 | - |
| 9 | Compression Socks | 3.6K | 620% |
| 10 | Car Vacuum Cleaner | 480 | 540% |
1). White Hoodie
5-year search growth: 760%
Search Volume: 1K
CPC : 1.39
The white hoodie, a wardrobe staple, represents understated elegance, comfort, and timeless style. The white hoodie is a blank canvas for your fashion ideas. It may be worn for everything from nice nights by the fire to city strolls. It may be worn with frayed jeans for a laid-back look or over your favorite dress for a stylish touch.
A white hoodie will comfort you from the outer world. It's a portable cocoon that cocoons you in warmth and calm, turning even the busiest days into peaceful moments. Streetwear has long celebrated the white hoodie as a symbol of revolt, uniqueness, and urban culture. From underground hip-hop to high-fashion runways, this simple garment has united disparate populations.
2). Ballet Flats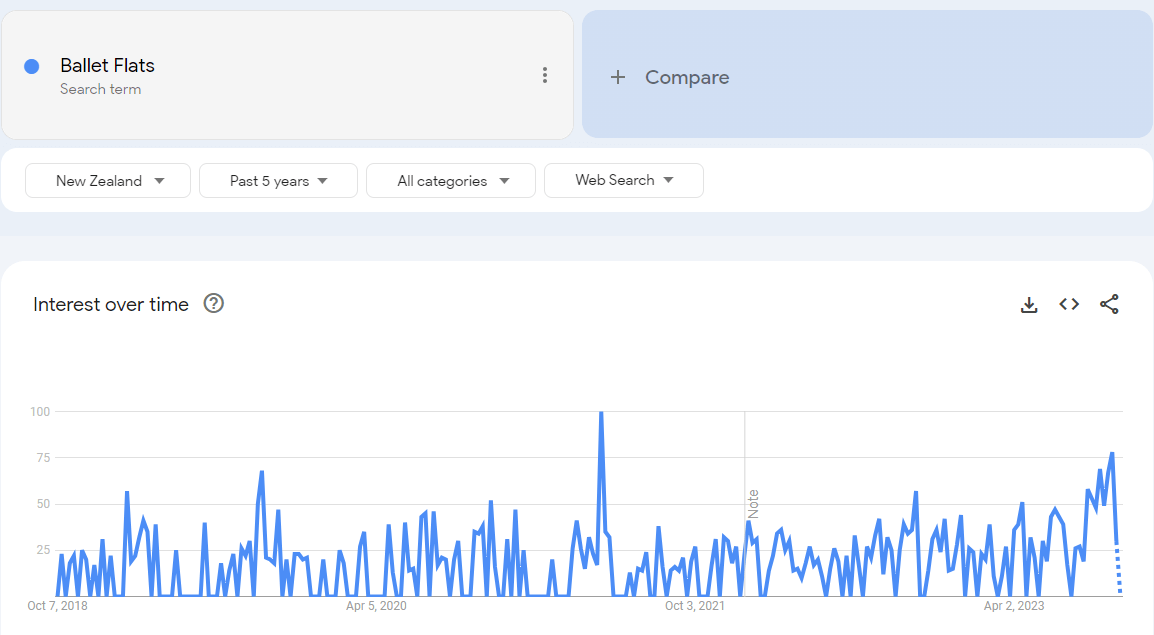 5-year search growth: 870%
Search Volume: 880
CPC : 0.78
Ballet flats, the Cinderella of footwear, make everyday life lovely and comfortable. Elegant and comfortable, these delicate shoes are a monument to ageless sophistication. These flats, inspired by ballet shoes, are light and airy. The delicate texture caresses your feet like silk sighs. A low, tiny heel that defies gravity makes them the perfect canvas for life's dance.
Ballet flats are the most versatile, matching every outfit. The silent painters of your outfit, enhance casual and formal outfits with grace. Slip into a pair and you're transported to fashion's vast stage, where every step is graceful. These shoes symbolize prima ballerina grace, elegance, and resilience with every step. Ballet flats are your constant companions on cobblestone streets or polished marble floors, helping you through life's ever-changing choreography.
3). Slipper Socks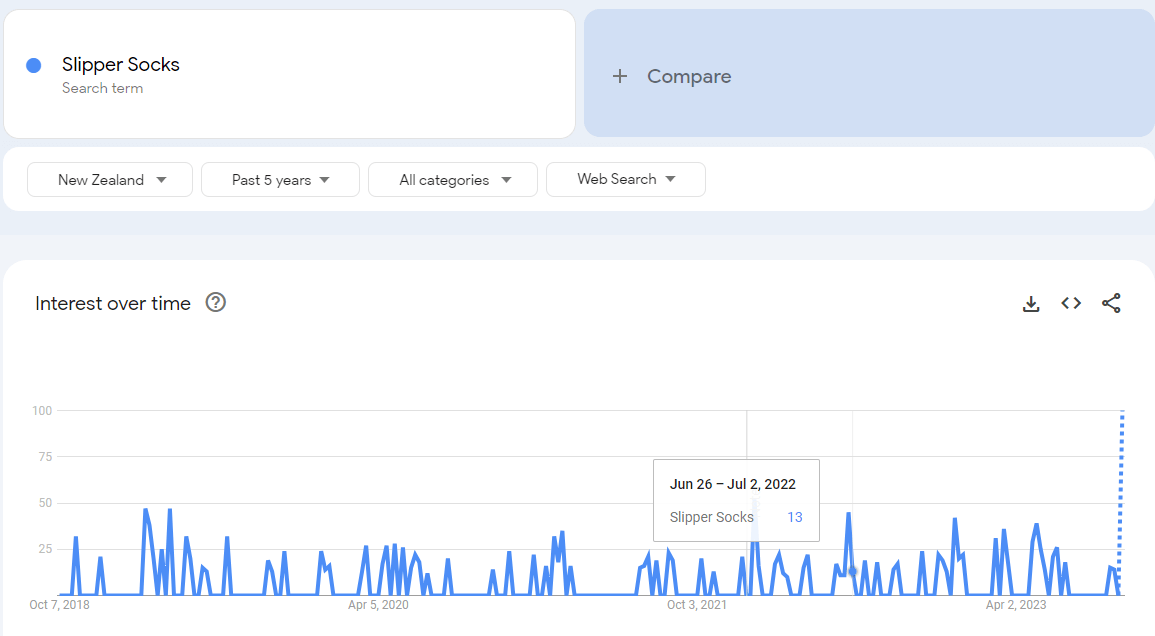 5-year search growth: 980%
Search Volume: 320
CPC : 1.85
Slipper socks are the perfect combination of warmth, style, and coziness. They're a foot symphony, a relaxing serenade. These adorable hybrids combine slippers' comfort with socks' functionality to create a fuzzy toes masterpiece. Slipper socks, made of the softest strands, cuddle your feet like clouds.
Slipper socks are the unsung heroes of cold mornings and nights. They easily shift from couch buddies to bedtime essentials. Whether you're walking down the hall or lounging at home, the rubberized soles grip your ground, making every step secure. Slipper socks are more than just comfort—they show off your style. They come in many colors, patterns, and styles to reflect your personality while being warm. Slipper socks are the perfect comforting, beautiful accessory, whether they have fanciful designs or traditional colors.
4). Baby Change Mat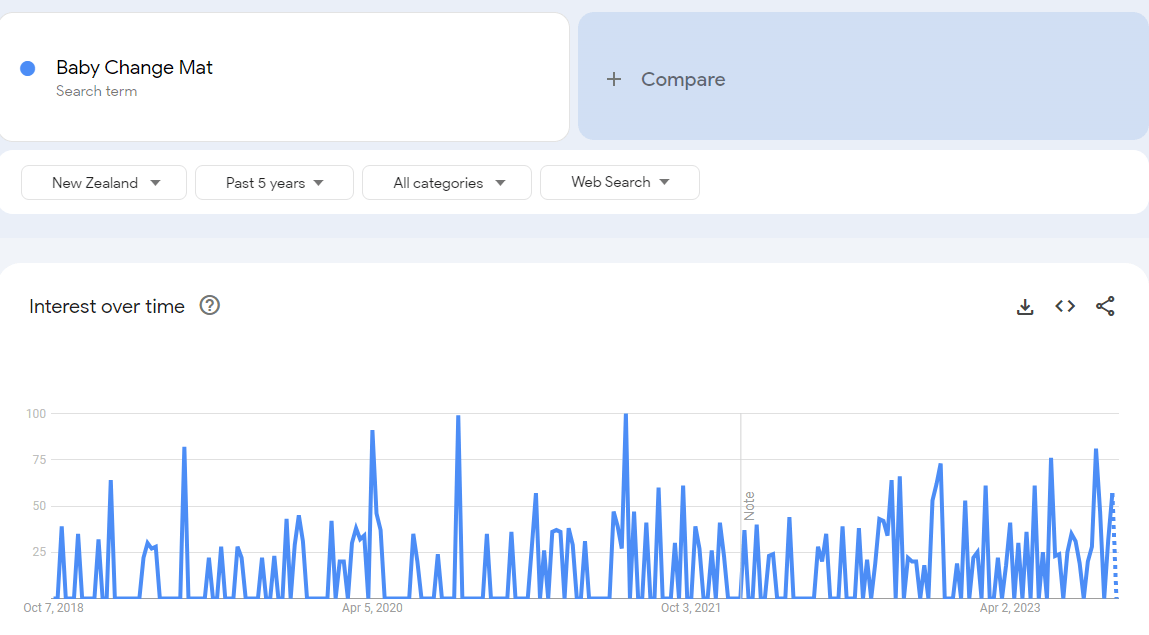 5-year search growth:  320%
A baby change mat, like a magic carpet for your child, is a portable sanctuary of comfort and convenience that makes diaper duty easy. This foldable wonder is a parent's closest friend, making daily tasks easy and tender. Your infant snuggles on a warm, soft surface. The change mat is a refuge for adorable, giggling bundles of joy, where the world fades away and the focus is on parent-child intimacy.
Its clever design opens up like a storybook to reveal a clean, safe location for diaper changes in unexpected places. This mat shields your baby from unexpected spills and messes, protecting them from poor changing stations. Baby change mats are lovingly handmade and come in a variety of attractive colors and designs, each expressing a story of comfort and flair. These are the beautiful canvases on which you make memories when changing your baby in a busy airport or a peaceful park.
5). Crepe Maker Nz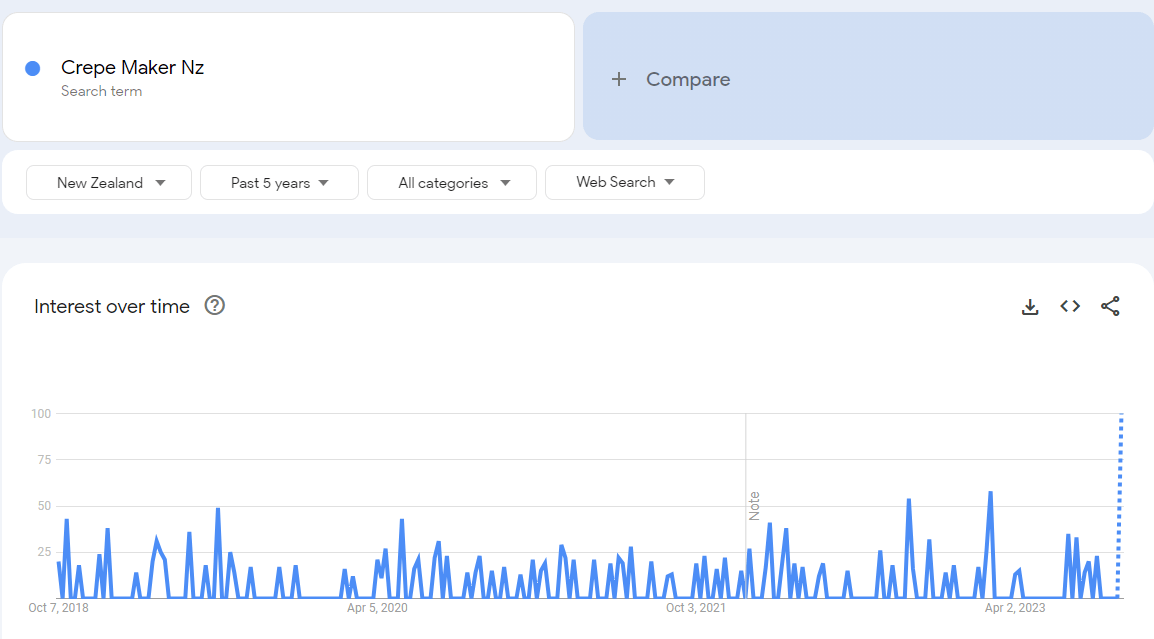 5-year search growth: 300%
Search Volume: 320
CPC : 0.32
Chef The Crepe Maker NZ is your ticket to a delicious world of delicate, thin, and golden crepes in New Zealand. With grace and flare, this kitchen marvel conducts crepe-making like a symphony for your taste sensations. A sleek, countertop wonder that sizzles with anticipation, ready to turn simple ingredients into culinary masterpieces. Your culinary creativity might take you on an epicurean adventure with the Crepe Maker NZ.
French tradition and Kiwi ingenuity combine in this appliance from New Zealand. It lets you make French and Kiwi-inspired crepes that reflect New Zealand's gastronomic diversity. Besides being a culinary tool, the Crepe Maker NZ inspires creativity. Its uniformly heated surface and customizable temperature control let you make the lightest, tastiest crepes with fresh fruits, savory treats, or unique flavors like New Zealand manuka honey.
6). Side Sleeper Pillow Nz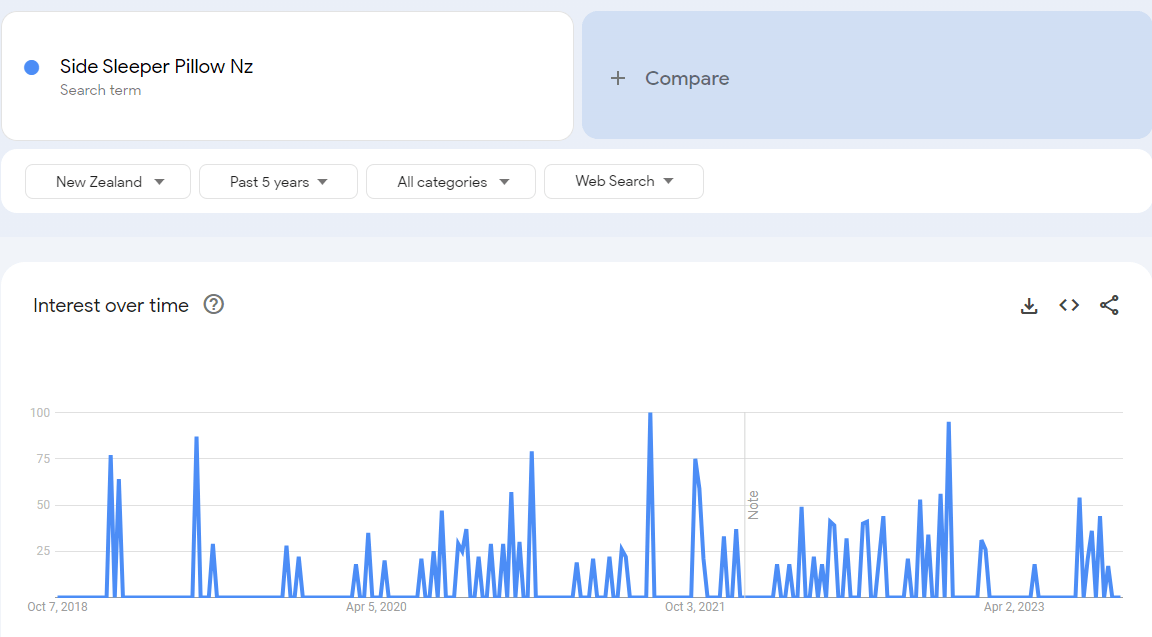 5-year search growth: 970%
Search Volume: 260
CPC : 1.11
The Side Sleeper Pillow NZ, your nighttime companion, is a wonderful invention carefully designed to cradle your precious sleep hours. This pillow is more than just a pillow—it's a gateway to a peaceful and pleasant night's sleep in the Land of the Long White Cloud, designed for Kiwi comfort. This exceptional pillow is made to accommodate your unique body curves when you sleep on your side. The Side Sleeper Pillow NZ adjusts your spine as your head rests on its velvety embrace, leaving you relaxed and invigorated.
Its creative design honors Kiwi's simplicity and functionality. Its soft, breathable materials keep you cool in summer and warm in winter, reflecting New Zealand's various landscapes. The Side Sleeper Pillow NZ lets you escape into your dreams silently. This pillow sings a lullaby of peace, allowing you to accept each night as a new chance to pursue your dreams, whether you're a side sleeper or a deep sleeper.
7). Barefoot Shoes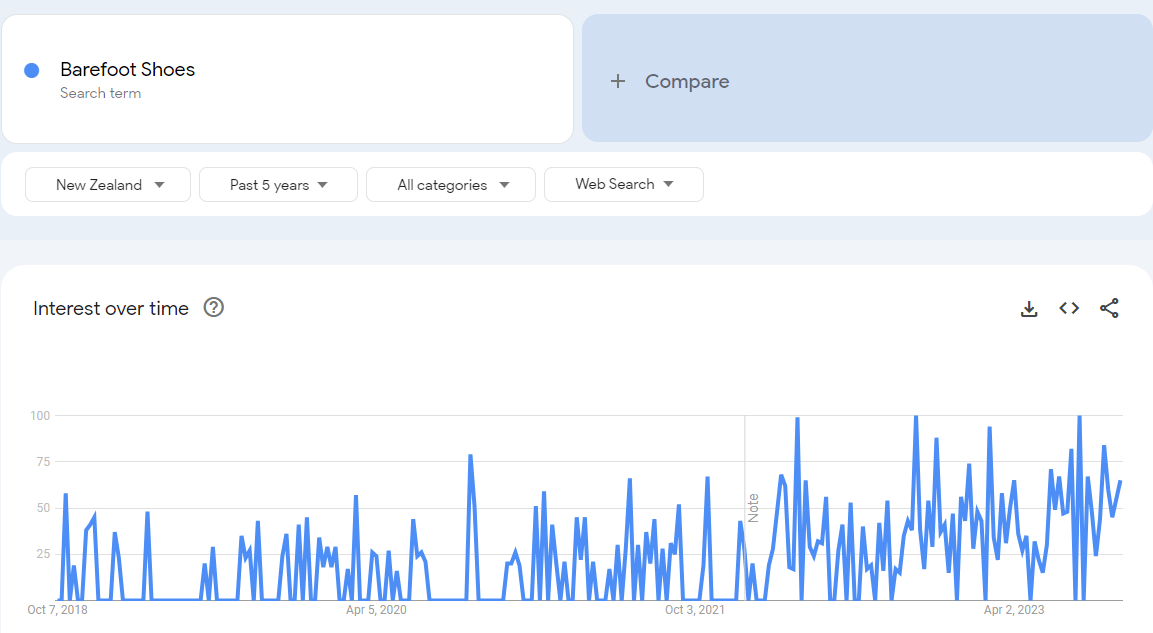 5-year search growth: 300%
Search Volume: 1.3K
CPC : 1.14
Barefoot shoes, your adventurous soles' symbiotic partners, represent foot emancipation. More than shoes, these revolutionary products let you gracefully navigate the world. Picture shoes that connect the distance between you and the Earth, like walking barefoot yet protected from the weather. Barefoot shoes match the freedom of walking on sand, grass, or chilly woodland floors. They invite you to rediscover the basic joy of every step.
The minimalist design makes these shoes lightweight and flexible, letting your feet move freely. They gently align your body with its natural equilibrium with each stride, giving you the feeling of floating. Barefoot shoes are the ultimate unifier, crossing urban and rugged trails. For those seeking discovery, these are the perfect shoes to take you from the concrete jungle to the wild.
8). 360 Camera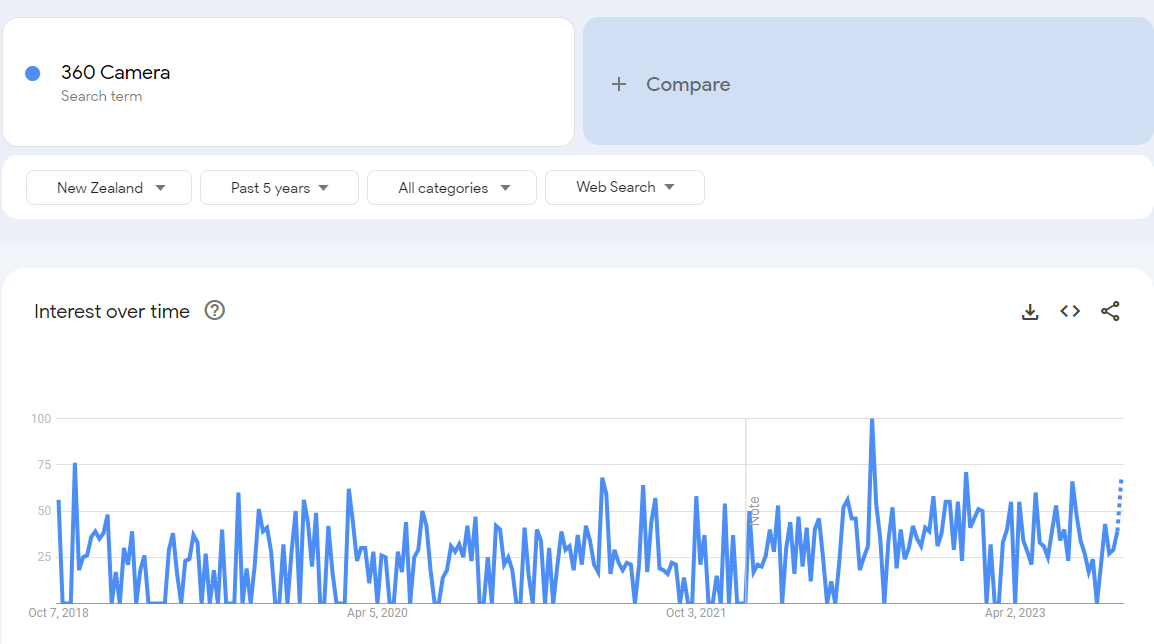 5-year search growth: -
Search Volume: 590
CPC : 0.55
The 360 camera, your gateway to endless immersive adventure, is a technological marvel that redefines photography. More than a camera, it's a magic wand that catches moments from every angle, giving you a unique glimpse into our spherical world. Holding a contraption that freezes time and space in all directions. The 360 camera lets you relive any moment, whether it's a bustling cityscape, an expansive nature panorama, or a family gathering's intimate candor.
The all-seeing 360 camera captures the environment, ambiance, feel, and soul of the moment. It invites you to participate in your life's narrative through visual poetry that exceeds ordinary photography. This camera can help you explore and tell stories beyond two-dimensional photos. It connects the physical and digital worlds, letting you share your panoramic view.
9). Compression Socks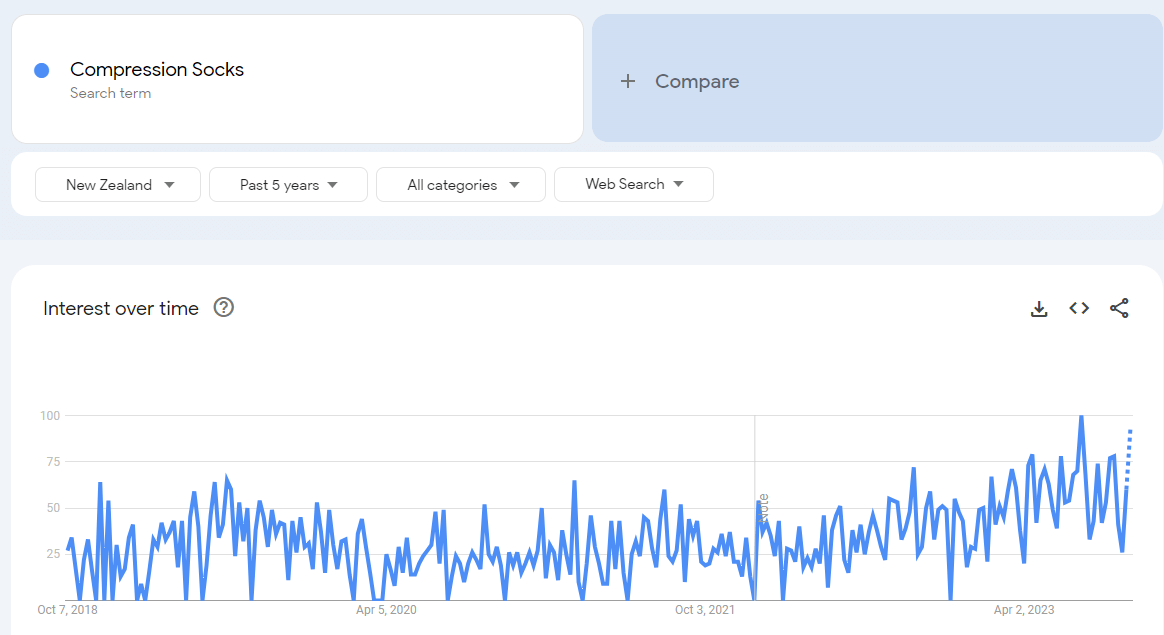 5-year search growth: 620%
Search Volume: 3.6K
CPC : 0.88
Hidden heroes of legwear, compression socks are your secret buddies for vitality and comfort. This clever clothing gently embraces your lower limbs, reminding you to take care of yourself. Wearing precision-engineered socks that support your legs and improve circulation. Whether you're a marathon runner or a desk worker, compression socks are your daily heroes.
These socks work therapeutically with your legs due to their snug but delicate fit. They boost blood flow and lessen muscle strain, keeping your steps light and your legs energized all day. Compression socks are fashionable and functional. In a variety of colors and patterns, they enable you to express your style while prioritizing your health. Whether you choose a subtle professional style or a bold sports design, these socks show your personality.
10). Car Vacuum Cleaner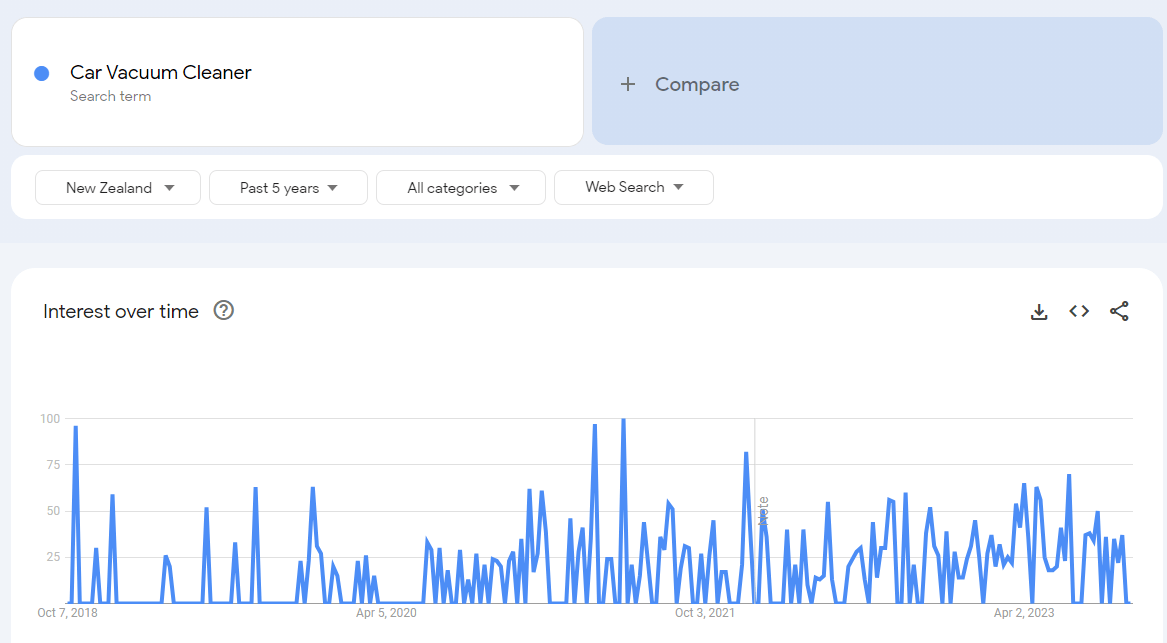 5-year search growth: 540%
Search Volume: 480
CPC : 0.69
Small but powerful, the vehicle vacuum cleaner is your valued companion for automotive cleanliness and order. This tiny powerhouse protects your car's clean interior by relentlessly removing every crumb, particle, and pet hair. Holding a tool that cleans your car's cabin. Car vacuum cleaners are like magicians, effortlessly removing dirt and debris to leave a fresh, beach breeze-like area.
The unsung hero of your automotive excursions. The small device hides in your car's crevices until you summon its power to clean it up. Car vacuums are more than tools—they save sanity. This device is your ally for cleaning up after a family road trip, a coffee spill, or keeping your car's beauty.
Understanding market trends is like having a crystal ball for your business. It helps you understand what people are searching to buy at the moment. So it is imperative to keep yourself updated with newest trending products.
Muztrends provides you with new latest trending products everyday, if you have been struggling with sales then this might be the solution to your problems. Keep selling most searched products and keep making higher profits than ever.
---